Place
Jersey Scallops, a Deep-sea Treasure
April 1 marks the official start of sea scallop season. That means it's prime time for the hard-working crew at Viking Village, a Barnegat Light landmark and commercial fishing hub known for bringing to market some of the world's finest scallops.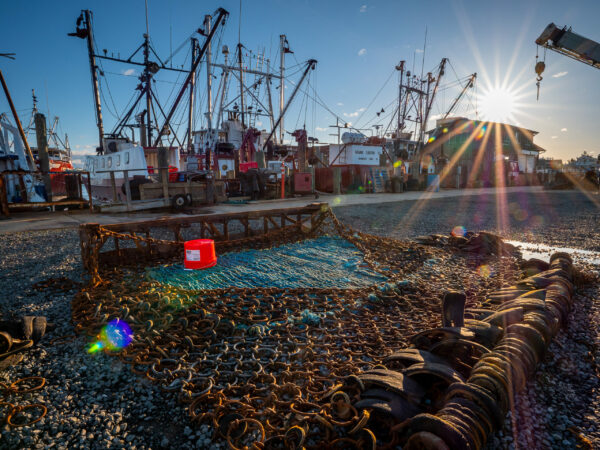 Subscriber Exclusive
Become a subscriber to unlock this story.
Already a subscriber?
---
Get Your Jersey Scallops Heah!
VIKING VILLAGE, INC., 1801 Bayview Ave., Barnegat Light. 609-494-0113. www.vikingvillage.net.
Viking Village is a wholesale seafood producer. The bulk of its fresh scallops go to big wholesale seafood markets in New York City, Philadelphia, Jessup, Md. and New Bedford, Mass., but there is an affiliated retail market on the premises: Cassidy's Fish Market, open seasonably.
Viking also sells to reputable fish markets in New Jersey and some local restaurants on LBI. Here are a few places where you can find them:
Cassidy's Fish Market
1801 Bayview Ave
Barnegat Light
609-494-8140
www.vikingvillage.net
Open seasonally. Call ahead for hours.
Blue Claw Seafood Market
1103 Long Beach Blvd.
Surf City
609-361-0050
www.blueclawlbi.com
Surf City Fishery
902 Long Beach Blvd.
Ship Bottom
609-494-8171
www.surfcityfisheryco.com
Sally's Shrimp & Seafood (wholesale market)
158 Wells Mills Road
Waretown
609-693-8055
Inquiries: order@sallysseafood.com
www.sallysseafood.com
Belford Seafood Co-op
901 Port Monmouth Rd.
Belford
732-787-6508
Nassau Street Seafood & Produce Co.*
256 Nassau St.
Princeton
609-921-0620
Inquiries: info@jmgroupprinceton.com
www.nassaustreetseafood.com
The Lusty Lobster*
88 Bay Ave.
Highlands
732-291-1548
www.bestlobster.com
Online orders available.
Local 130 Seafood*
1305 Memorial Drive
Asbury Park
732-455-3951
www.local130seafood.com
Chef Mike's ABG
10 24th Avenue and Central Avenue
Seaside Park
732-854-1588
Inquiries: info@chefmikesabg.com
www.chefmikesabg.com
*Online orders available.
You can also find fresh-caught Jersey scallops at the Fishermen's Dock Cooperative in Point Pleasant Beach:
Fishermen's Dock Cooperative Inc.
57 Channel Drive
Point Pleasant Beach
732-899-1872