Season's Eatings
Peak Interest
The smartest shoppers know the time is now to hit our Garden State farmers' markets. The selection is sizable, the quality and community can't be beat, and the camaraderie the kind of contagious we actually appreciate. Buy as local as local gets this holiday season, and make a resolution to continue that practice in the new year.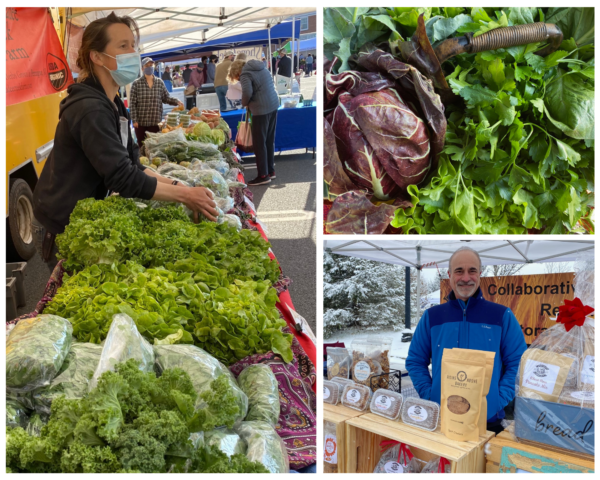 Subscriber Exclusive
Become a subscriber to unlock this story.
Already a subscriber?
---
Note to readers: I worked on compiling a list, with accurate dates and times, of the upcoming late fall/winter markets. There's much still churning right now, too much to offer you an accurate listing. I'll keep at it, so stay tuned for updates later in December. But I want to point out some of the markets currently open, and staying open into December, and urge you to not only do your holiday-meal shopping at our Jersey markets, but also your weekly stock-ups. If you're already a devout farmers' market shopper, skip down to the list below. But if you've favored mega-markets, being of the mind that presumes convenience conquers all, please consider these facts: 1) The edibles you purchase at farmers' markets are undoubtably fresher and able to retain inherent nutrients because they're as farm-to-you as can be; 2) When you buy directly from a Garden State farmer, you also directly support New Jersey's economies in every way, at every level – not a corporation based in Austin or Rochester or other across-our-borders port; 3) Attending community-based farmers' markets allows us to share experiences and recipes, to feel the camaraderie that the cold weather can, at times, suffocate. Count on Jess Niederer to put it succinctly: "Going to markets is also having our souls fed."
Below is a short list of farmers' markets open now and into December, plus a handful of markets open year-round. Farmers' market managers: If a wintertime market open to the public is not on this list, and you'd like your market to be included, please write to me at info@thepeasantwife.com, putting the words WINTER NJ FARMERS' MARKET in the subject field. Include in the email your own contact information, as well as the pertinent details and website for your market.
GARDEN STATE FARMERS' MARKETS
LATE FALL 2022/WINTER 2023
West Windsor Winter Farmers' Market: www.wwcfm.org
Morris Winter Farmers' Market: www.growitgreenmorristown.org/wintermarket (starting Sunday, Dec. 4)
Montclair Farmers' Market: www.montclairfarmersmarket.org
Stangl Farmers' Market: www.stanglfactory.com
Ramsey Farmers' Market: www.ramseyfarmersmarket.org
Denville Farmers' Market: www.denvillefarmersmarket.com
Trenton Farmers' Market: www.thetrentonfarmersmarket.com
Historic Downtown Jersey City Farmers' Market: www.jcdowntown.org
Princeton Farmers' Market: www.princetonfarmersmarket.com
Sparta Farmers' Market: www.spartafarmersmarket.org (winter "nomad" market starts Saturday, Dec. 3, pre-orders/pickup only)
Summit Farmers' Market: www.summitdowntown.org
Hunterdon Land Trust Farmers' Market: www.hunterdonlandtrust.org
Highland Park Farmers' Market: www.mainstreethp.org
BellWorks Fresh Market: www.bellworksfresh.com