Place
River Valley Community Grains
A passion for developing and patronizing a local food economy prompted a culinary-centric quartet to bridge a gap between grower and consumer in the largely untapped market for grains.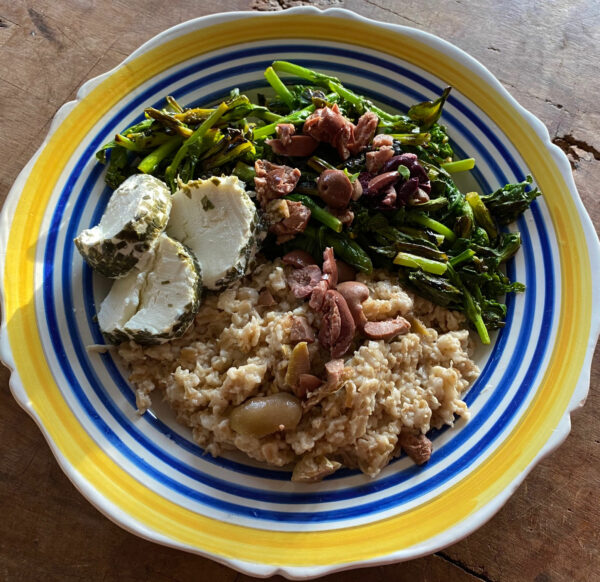 Hub cooking: You know it? No? Well, step into the future by taking a cue from the past.
It's Tuesday evening, and I'm hungry. Early rabe, the right-now vegetable in the Garden State, is in the fridge where I'm house-sitting, as is a chive-flecked goat cheese and a jar of mixed olives I picked up last weekend at Valley Shepherd Creamery in Long Valley.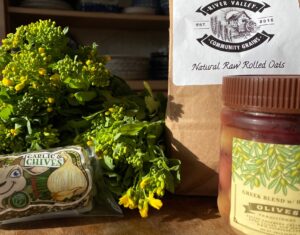 And not much else. I'd packed light when I moved in the other day. My small canvas food tote held a rasher of mixed nuts, a tin of tea and a bag of Rancho Gordo Caballero beans I hadn't soaked. Oh, yes, there was a paper sack of River Valley Community Grains Natural Raw Rolled Oats I'd picked up at the Morris Winter Farmers' Market in Morristown a couple Sundays ago.
Oats subbing for pasta or rice or beans? Why not? Prepared without adding fruits or sweets, the oats would be as they naturally are: a delicious, nutritious savory companion.
Quicker cooking than my usual beans, rice or pasta, the oats are far from a substitute born of desperation; they're the star of dinner. As I eat, I realize I'm doing exactly what Larry Mahmarian, one of the founding principals at River Valley Community Grains in Long Valley, told me he wants New Jerseyites to do: Eat local and, even better, eat from your hub.
*
"Hubs are part of the history of New Jersey," Mahmarian says. Local growers and producers were the prime sources of the foods that fed their communities. Some non-farmers may have grown some of their own edibles in backyard gardens, but they relied on what was grown nearby and patronized neighboring farms for the meats and produce, dairy and grains to build their meals. It was a circular economy – community supporting community – that worked, and worked well.
"Until we moved away from that," Mahmarian says.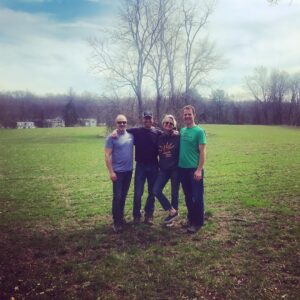 Inspired by the work being done by such exemplary agrarian models as Genesis Farms, Blairstown, and buoyed by a new generation of farms and farmers employing sustainable practices, looking to sell hyper-locally and hoping to educate consumers, Mahmarian and his three equally passionate comrades, Miriam MacGillis, Mike Hozer and Len Bussanich, revved up their engines.
They were intent on forming a local grainshed in northwestern New Jersey. So they consulted Dr. Elizabeth Dyck of the Organic Growers Research Information-sharing Network (OGRIN), the point person for an organization aimed at supporting organic grain production in New Jersey, New York and Pennsylvania. Community talks and meetings ensued and support came from key culinary pros, including Steve Gambino of Villa Milagro Vineyards in Finesville, who transitioned a field of soybeans into high-quality wheat, and Nina White, of Bobolink Dairy and Bakehouse, who hosted a class in baking with local flours at the farm she owns with her husband, Jonathan, in Holland Township. 
Interest from chefs and bakers, both pro and home, was growing. 
"We'd tapped some good sources," Mahmarian says. "We needed to make the connection between grower and prospective buyers. To fill a void, bridge a gap. Grains for people became our goal. The demand was there for nutrient-dense grains and local flour for breads and healthy cereals. The missing piece was the infrastructure."
There were prospective growers who simply wanted to learn how to grow grains of that elevated quality – and, then, see what they could do with those grains. It all came together, as Mahmarian says, "in one-, two, five-acre plots." 
Meaning, very, very, very small farms. Plus, farmers in need of someone to process their crops.
"We said, 'We'll take it! We'll distribute, we'll process, we'll take it to the markets.' And that's what we've been doing." Mahmarian says.
Working out of the Red Barn Kitchen Incubator in Long Valley, River Valley Community Grains is "bringing back the health of the land" to the grainshed centered in Warren County. Key farmers growing grains processed and marketed by River Valley include Ruthie Peruthie in Marksboro; Brant Gibbs in Allamuchy; and Kent Kimball in Belvidere. 
A new entry to the River Valley grainshed/hub is Jason and Deb DeSalvo's farm in Tewksbury, where 10 acres have been designated for organic grain-growing. Five of those have been planted with einkorn by a member of one of the reigning farm families in the Garden State, Jay Vogelaar.
"It's exciting!" Mahmarian says. "We just entered into that agreement; we'll get 100 percent of these crops. And create a model that others can follow."
The hub is critical: It's the support, the outlet for the farmers, the place where connections are made for production and purchase. Vogelaar's father, River Bend Farm manager Corne, approached Mahmarian at a farmers' market where he was selling River Valley's grains, and inquired.
"Corne asked us, 'What's up with this?' We made the connection," Mahmarian notes.  
Now people can buy from River Valley's locally grown organic hard red winter wheat and spring wheat, as well as rye, spelt, buckwheat, oats and oat flour. The esteemed pastry chef and baker Carey Bell, of Sweet Caroline's Bakeshop in Pittstown, uses River Valley grains in her baked goods and granola; River Valley sells her granola at farmers' markets. Susan Barilius, of Lazy Susan's Granola in Succasunna, uses River Valley grains, and at Ironbound, in Asbury, the house pizza is made with – you guessed it – those local grains.
Synergy. Hub. The circle of strength.
"It's coming together," Mahmarian says. "We're widening the scope of what's produced locally and conventional farms are starting to evolve, to change. The miller is what was missing in the farmer-to-baker connection. Our state is dotted with abandoned mills. But we're seeing what can start with, what can grow from the grains – today."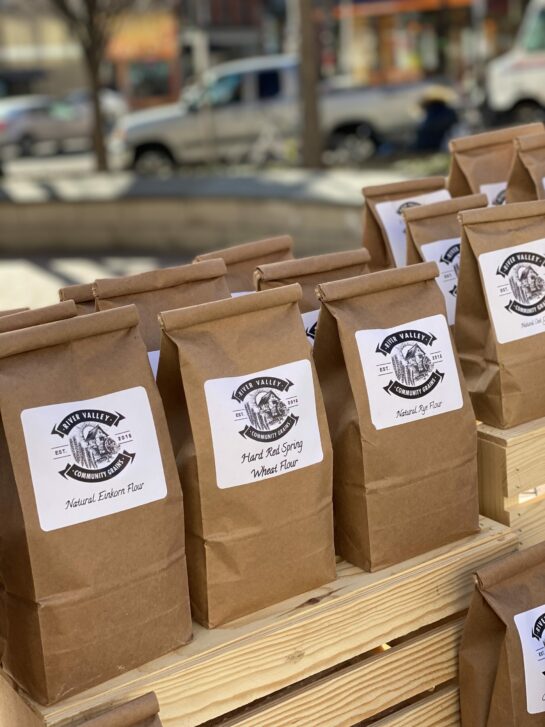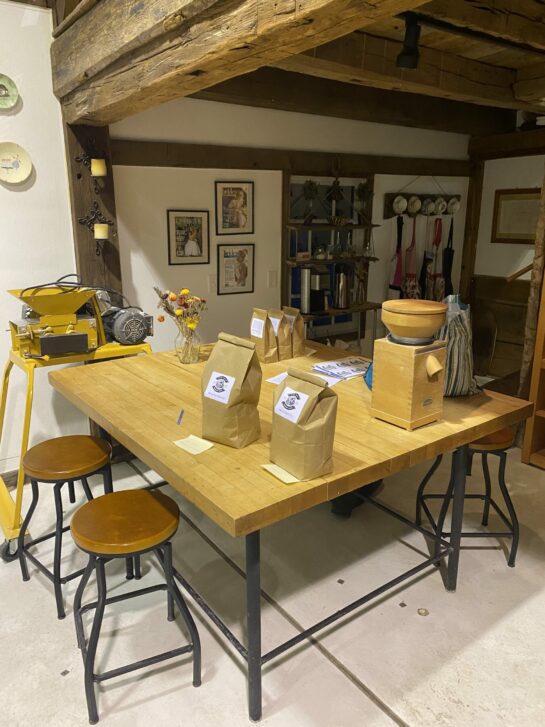 *
I eat the oats straight, just to try them, and they're toasty, nutty, earthy. Grown at Gibbs Quest Farm in Allamuchy, they're also chewy, not a smidgen mushy, and far from the pablum texture of mass-produced oats.
I spear a stem of spring rabe and swirl it in the oats. The mild broccoli flavor and the toasty oats love each other. The Valley Shepherd chive-flecked fresh goat cheese melts into both: a menage-a-trois? Yes, but actually a swell foursome, as the chopped-up herbed olives, a new item in the Valley Shepherd line, added salinity and brininess to my happy hub supper.
---
RIVER VALLEY COMMUNITY GRAINS, based in Long Valley, in northwestern Morris County. For more information, visit www.rivervalleycommunitygrains.com. Phone: 973-885-8535; email: larrymahmarian@gmail.com. River Valley sells at a number of farmers' markets in northern, western and central New Jersey, including Bedminster, Morris, Ramsey, Bernardsville, Duke Farms and Summit. Follow on Facebook and Instagram @rivervalleycommunitygrains.