Smart Shop
Superfood Fresh Supermarket
It's back! Our monthly column features two food-centric shoppers exploring a market and assembling ingredients to make – at two price points, $50 (high) and $20 (low) – meals that are a little bit off-your-beaten-menu path. We're stamping your culinary passports and taking you on a cooking journey.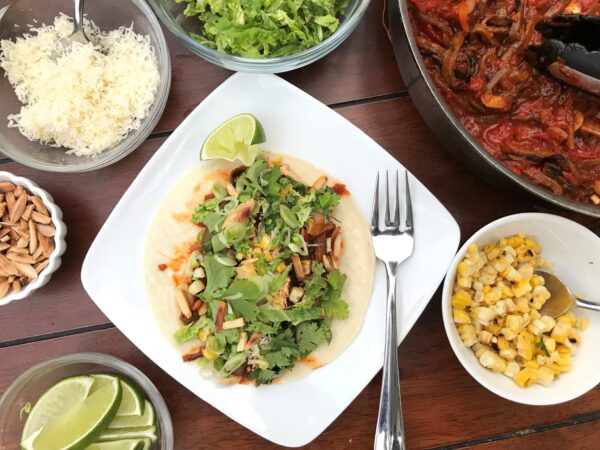 First, an intro: The Peasant Wife is thrilled to welcome Lynley Jones to the team as the lead Smart Shopper. The creator of the Montclair-based Adventure Kitchen, Lynley is a self-described "curious cook who likes to travel and learn and bring people together over food." She's also a cooking teacher, runs a summertime culinary camp for kids and is a spice merchant (seriously high-quality spices). Please visit her website for much more: www.adventurekitchen.com.
The minute I walked into Superfood Fresh Supermarket, I realized I'd be making a plant-forward recipe. As in most grocery stores, the entrance takes you smack into the produce section. But WOW. As I inched through, encountering rambutan, jocote and no less than four types of mangos, phone in hand for Googling, an idea began to take shape for veggie tacos.
These tacos use five different chiles, ranging from fresh to dried to ground, some in the filling and some in the sauce. My inspiration for the dish came from a couple of different traditional Mexican approaches. The combination of charrales (dried anchovy-type fishes) with guajillo chiles and nopales (cactus paddles) echoes a fish stew from Michoacan; the inclusion of beer in the dried-chile salsa was inspired by salsa borracha. 
You won't find many of these ingredients in your standard New Jersey supermarket, and that's the point. Shopping at a place like Superfood lets you explore something new. So strap in, my friend. Your adventure begins here. – Lynley
Budget: $50
Spent: $43.23
Bottom line: This makes about 12 tacos.
FIVE-CHILE SUMMER TACOS
WITH GRILLED NOPALES
For the salsa:
1 large garlic clove, unpeeled (2, if small)
4 guajillo chiles (5, if small), stemmed with seeds and pith removed
1 ancho chile, stemmed with seeds and pith removed
2 tablespoons canola oil
5 to 6 charrales 
3 large spring onions, bulbs and greens separated and bulbs cut vertically into thirds (see notes for seasonal alternatives)
3 plum tomatoes, halved vertically 
¾ cup Victoria or Dos Equis beer
¼ cup lime juice (plus a splash or two more if needed)
1¾ teaspoons coarse salt (or half this amount if using table salt), plus a pinch or two more if needed
½ teaspoon ground chipotle chiles (adjust amount to taste)
For the tacos:
¼ cup canola oil
Salt
4 nopales (cactus paddles), thorns and edges removed, rinsed and patted dry (see notes for how to remove thorns)
4 poblano chiles
3 ears of corn
1 small yellow onion, diced
1 to 2 serrano chiles (depending on your heat tolerance), minced
2 plum tomatoes, diced
1 cup shredded queso blanco
Corn tortillas
About 2 limes
To garnish: Torn cilantro leaves, shredded napa cabbage and toasted slivered almonds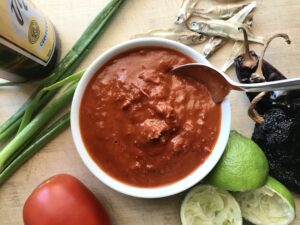 To make the salsa:
Preheat a dry skillet over medium heat, and bring about 2 cups of water to a boil in a separate pot. Add the garlic clove to the dry skillet to toast alongside the chiles as you work. One at a time, add the chiles, opened flat with the skin-side down, pressing them lightly with a spatula against the hot pan to toast them. You should notice the skin lighten as blisters form, and you should smell a whiff of delicious chile. (Do not let them burn or they'll turn your salsa bitter.) Each chile should take less than a minute. Put the toasted chiles in a bowl and when the water boils, pour it over the chiles to submerge and rehydrate them for 15 minutes, then add them to the bowl of a blender. Peel the garlic clove and add it to the blender. 
Add the oil to the skillet and turn the heat to medium-low. Toss the charrales in the hot pan for about 2 minutes, then use tongs to remove them and add them to the blender. Add the spring onions to the pan to char and soften slightly for about 3 to 5 minutes (adjust the heat as needed to develop color), then use tongs to add them to the blender. Add the tomato halves to the pan, cut sides down, until they are softened and the skin begins to curl up at the edges (about 5 to 8 minutes). Adjust the heat as needed to prevent the pan sauces from burning. Use the tongs to add the tomatoes to the blender. Turn the heat to high, pour the beer in the pan and bring it to a boil. Simmer, scraping the bottom of the pan to loosen and incorporate all the drippings, until the liquid has reduced by at least half, about 5 minutes. Use a spatula to scrape all the pan juices into the blender.
Add the lime juice, salt and chipotle powder to the blender and whir everything together into a thick sauce with a few chunks remaining. Taste and if needed, add another pinch of salt or chipotle, or another splash of lime, to balance flavors.
To make the taco filling:
Prepare the grill for high, direct heat. Brush the nopales with the oil and sprinkle generously with salt. Grill the nopales, corn and poblanos together on the grill, turning and moving them as needed until they are each done as follows:
Nopales: Will soften and turn a lighter shade of green, with grill marks.

Corn: Kernels will become translucent and charred in places. 

Poblanos: Will soften, with the skin blackened and blistered, separating from the flesh.
Put the grilled poblanos in a closed paper bag to "sweat" for about 15 minutes. Use a knife to cut the kernels from the corn and set aside in a bowl for serving. Slice the nopales into thin strips no more than one-eighth-inch wide. Remove the skin from the poblanos, then remove the stems, seeds and pith and slice into thin strips.
Warm a large skillet over medium heat, then add the oil followed by the onions and serranos. Saute until softened (about 2-3 minutes), then add the tomatoes and ¾ teaspoons coarse salt (or half this amount if using table salt). Saute until softened and incorporated, about 2 minutes. Add the strips of nopales and poblanos, toss everything together and bring to a simmer. Ladle in about 1 to  1.5 cups of salsa plus about ½ to ¾ cup cold water to bring the mixture to a saucy taco-filling consistency. Stir to combine, partially cover and return to a simmer. Taste and add another pinch of salt or squeeze of lime if needed to bring everything into balance. Remove from heat and cover to keep warm until serving.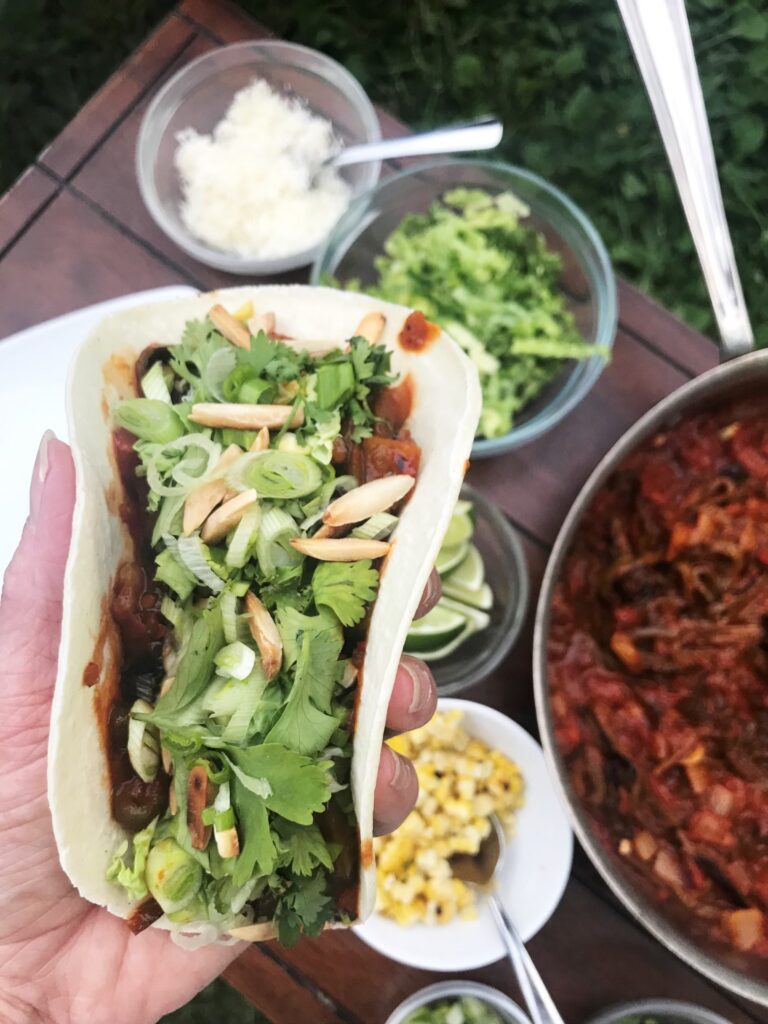 Finish and serve the tacos:
Warm the tortillas (see notes) and slice the spring onion tops into thin rounds. For each taco, scoop the hot filling into a tortilla and top with cheese, corn, almonds, cabbage, spring onion tops and cilantro. Serve with lime wedges for your guests to squeeze over their tacos if desired.
NOTES:
Nopales are the "leaves" of a prickly-pear cactus, and they have the thorns to prove it. To remove the thorns, scrape with a knife moving away from you, preferably on an angled cutting board in your sink (to catch the thorns). Once the thorns are removed, rinse them to remove any stray bits, pat them dry, and then cut away the edges of each cactus paddle.
On the day I shopped, Superfood had gorgeous spring onions in the produce section, but as the summer season arrives these might not be available of course. If that's the case, you can substitute ½ a small yellow onion (cut into large chunks) for the spring onion bulbs in the sauce, and 3 scallions for the   green tops.  
The best method to warm tortillas is to lay them in a hot, dry nonstick or cast iron skillet or griddle, flipping as needed until they're soft. The whole process should take about a minute, and with a large griddle you can do several at a time. Once hot and soft, stack the tortillas and wrap them inside a clean dishtowel. The wrapped stack of tortillas will keep warm for at least 30 minutes inside a tortilla warmer (tortillero). If you don't have one, you can use any pot with a lid, or in a pinch you can wrap up the dishtowel package in second layer of aluminum foil.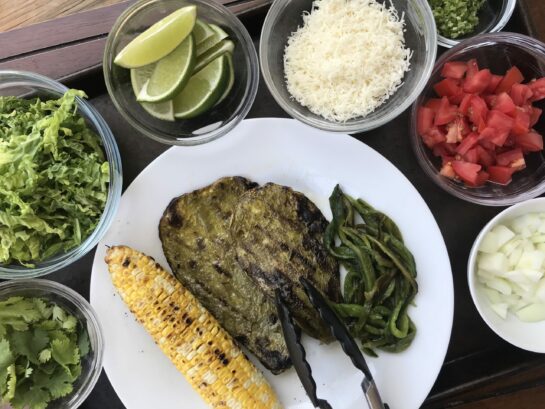 *
Much less a recipe and much more a put-together, these Mexican Cuke Cups are inspired by a south-of-the-border street food classic: Japanese peanuts tossed in chamoy sauce and stuffed into hollowed-out cucumbers, then sprinkled with tajin seasoning. It's a healthy snack, it's a delightful hors d'oeuvre, it's a partner to beans and/or rice that can be called lunch or dinner. Bottom line: It's shopping, not cooking. As Lynley and I shopped Superfood, I was inspired by other ingredients easily prepped and stuffed into cuke cups:  mangos (chopped, with scallions and cilantro), avocado (mashed, with onion and a squirt of lime), and a tub of Mexican pickled vegetables (like kimchi, but a tad less chile-hot; take it straight from the tub). And just like that, I had several pretty platters of hors d's. – Andy
Budget: $20
Spent: $18.70
Bottom line: 64 cuke cups, plus leftover chamoy, tajin, cilantro and pickled vegetables aplenty to kick off another round of cuke cups.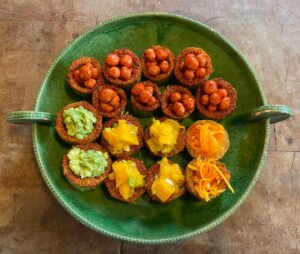 MEXICAN CUKE CUPS, CUATRO
1 small bottle chamoy (I like the Mega brand)
1 jar tajin chile-based seasoning
8 fresh, firm cucumbers, peeled or "striped" (leaving stripes of green), sliced 1-inch thick and hollowed out, with a melon-baller, into 8 "cups" with solid bottoms ready to hold filling
1 sleeve Japanese peanuts (typically found in slender packets of a little more than 6 ounces; you will have leftovers for snacking as you cook)
1 Manila or Ataulfo or Alphonso or Keitt mango, peeled and cubed
5 scallions, white and most of green part, finely chopped
1 cup cilantro leaves, chopped (divided)
1 large Hass avocado, peeled and coarsely mashed
1 tub Mexican pickled vegetables (I bought the 32-ounce tub, at $5.29; I'm still enjoying leftovers)
1 fresh lime, juiced 
Pour a few tablespoons of chamoy into a small bowl (you'll replenish as you go along). Sprinkle a few tablespoons of tajin onto a small plate (again, replenish as you go).
Prep the peanuts by placing them in a bowl and tossing with a couple tablespoons of chamoy. Take the cubed mango and mix with half of the chopped scallions and half the chopped cilantro in a bowl. Mix, as well, in a bowl the mashed avocado with the remainder of the scallions and cilantro. Scoop, using a slotted spoon, a cup or so of the pickled vegetables into a bowl. Sprinkle the lime juice atop the mango and avocado mixes and stir in, gently.
Now set up an assembly line of all your prepared ingredients.
Take a cuke cup and dip its cut end into the chamoy, coating the rim. Then dip into tajin, affixing the chile seasoning to the rim.
Then, fill: Scoop peanuts into the cups. Follow suit with the mango, the avocado and the pickled vegetables. You can sprinkle a little more tajin atop all the cups, if you want a little extra zip. Take a nap; these'll keep in the fridge for several hours. Or, prep everything ahead, then fill at the last minute, with your guests eating them as quickly as you make them.